Some favorite dad-daughter pics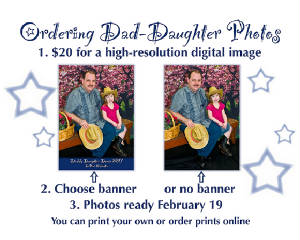 CLICK ON PHOTO to view
I'm delighted to be the official photographer for the DuPont Daddy Daughter Dance again for 2017. To sign up for the dance, you must be a member of the Northwest Landing Resident Owners Association. More information is on their website: www.nwlandingroa.org. It's always a pleasure to see familiar faces and daughters getting taller. I live in DuPont and I'm a member of the Northwest Landing ROA.
If this is your first time, here are a few things to plan on:
Download a photo order form, print it out, and bring it with you.
Because it's so busy at this event, please be ready to pay by check, credit or debit card. We cannot make change that day, so prefer no cash unless it's the exact amount.
Please don't ask to take your own photos in front of our backdrop. We put a lot of time and expense into creating a special photo opportunity each year.
The theme this year is Denim & Diamonds.